News
Here we publish news from Pizza 4P's Corporation and Industrial Hightlights
Healthy Pasta recipe with Greek Yogurt
In: News
Posted: 23 Thg 10, 2018
Salad Pasta with Greek Yogurt is a good idea for healthy, yet flavorsome diet. Be removing Whey, which contains fat and glucose, Greek Yogurt is lower in carbohydrates while still owns a rich, creamy texture.
By substituting traditional creamy sauce with Greek Yogurt, you could enjoy a savory dish in a healthier way. Let's prepare some Salad Pasta with Greek Yogurt!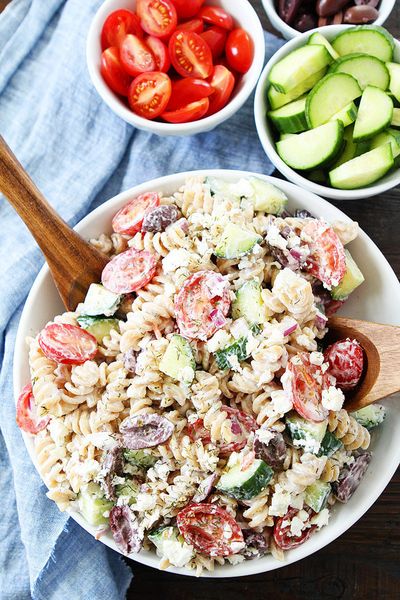 Ingredients:

450g pasta
160g Greek yogurt of Pizza 4P's
1 clove garlic, minced
3 tbsp lemon juice
2 tbsp red wine vinegar
1 tsp dried dill
1/2 tsp aromatic herbs
3 tbsp olive oil
60g baby tomatoes, halved
1 cucumber, chopped
100g olive (fresh/canned), halved
50g red onion, diced
100g Feta cheese, crumbled
Salt and black pepper
Recipe:

Boil the pasta according to package directions.
Meanwhile, stir Pizza 4P's Greek yogurt, garlic, lemon juice, red wine vinegar, dill, and oregano in a large bowl.
When the pasta is boiled, drain the water and drizzle it with some olive oil.
Mix the pasta in the large bowl with the Greek yogurt mixture.
Adding other ingredients: tomatoes, cucumber, olives, red onion, and feta cheese. Stir gently until all ingredients are completely covered by the sauce.
Adjust your taste with some salt and black pepper and enjoy!
Hope you will have a delicious Salad Pasta with this recipe and Greek Yogurt. Our Greek Yogurt is now available at: https://online.pizza4ps.com/products/yogurt-greek-90g